Testimonials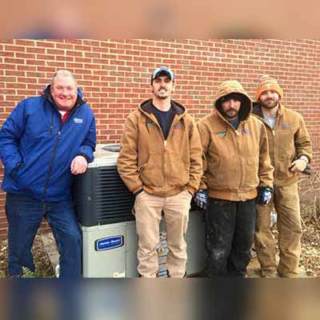 A big shout out to Blankenship Heating & Cooling (Emmitt Blankenship) for the prompt and efficient service!! If you know my husband Craig, then you know what a perfectionist he is. He is an engineer and will scrutinize everything. So high-five Emmitt, he was singing your praises all night!! Great job and thanks for keeping my family warm!! Call Blankenship Heating and Cooling.
We had Blankenship HVAC put in a new unit. My utility bill has dropped and the comfort level in our home is so remarkable. It's nice being able to control your unit from anywhere in the world. Lol. Buying the new unit was the best investment I've made in years. The folks at Blankenship HVAC did an outstanding job. Thanks
what excellent service and wonderful work crew. I would definitely recommend this company to anybody looking for a system.
Samantha Jarrett
Decaturville, TN
We have relied on Emmitt Blankenship for our Central Unit service needs for a couple of years now. He has always gotten out to look at our unit very quickly and done a great job of fixing the problem. Our unit finally bit the dust the day before Halloween. Emmitt came out within in an hour of me calling him. We had a bad heat exchange on a wore out unit. He came out the morning of Halloween to go over pricing on new units and we bought a new on from him. He and his team were out there Halloween afternoon and got it installed that evening. We are so thankful for Emmitt and his team. Customer service is unmatched and he is a great guy to do business with. Our home is more comfortable than it has ever been after getting this new unit. I highly recommend him for all of your Heating and Cooling needs.
Over the past few years, I've had to have my HVAC serviced 4 or 5 times. Each time I've called, Mr. Blankenship has had a service tech at our house within a couple of hours. We recently had to replace our unit. They showed up on time and when they were finished they cleaned everything up before they left. There was no mess left inside or outside of our house. Every one of the service techs I have dealt with has been very professional in both appearance and in customer service. You can tell they each take pride in their work, even when the boss isn't around.
Benji & April Roach
Wildersville, TN